By Marissa Burgess
Manchester Evening News 31.01.05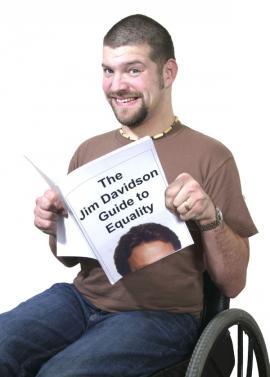 THERE can't be many comedians who started out in comedy because they were fed up of being the punch-line of the other comic's gags.
'I was sick and tired of going to comedy clubs and listening to comedians who used Disabled People as the butt of their jokes, so I decided to redress the balance and have a go myself,' explains wheelchair user Laurence Clark.
The set he devised draws heavily on his experience as a disabled person and how he is often treated as a second class citizen and charity case.
The material includes a belly-achingly funny skit on how the refreshments trolley on a train is given better treatment than he is. He has been known to hand round a collection tin to collect for poor celebrities who do charity fundraising events.
His latest project, The Jim Davidson Guide to Equality, is a direct response to news reports concerning Davidson's apparent problem with wheelchair users at his shows -in one incident ,he declined to perform when they refused to move from the front of the gig.
'It's quite rare to get a case where the discrimination is so blatant, so I thought it would be a nice idea to hang a show on it.'
Performance
As Davidson has refused to perform in front of disabled people, Clark has his own a response for that.
'On all the publicity for my show it states that I won't perform if Jim's in the audience. Seems fair eh?'
So has he ever had to cancel a show because Davidson turned up? Does Clark know whether Davidson is even aware of the show?
'Jim was given the opportunity to discuss the show with me on Radio 4 but he turned it down. I guess he realised that he would come off the worst however the interview went.'
Despite the media attention and endorsement of this fine comedian – even the infamously hard to please Kate Copstick (comedy critic at the Scotsman) is a fan – Clark is still experiencing prejudice in the comedy world as a disabled comic.
'I'm still without an agent ' no-one will touch me. I also don't play many clubs as the majority are inaccessible.'
Agent or no agent, he's doing fine by himself, and his aims are no different to any other comedian. 'Primarily (I want) to make people laugh. If they come away thinking about stuff they may not have previously considered then all's the better.'
The Jim Davidson Guide to Equality is at the Contact Theatre on Thursday, February 10.