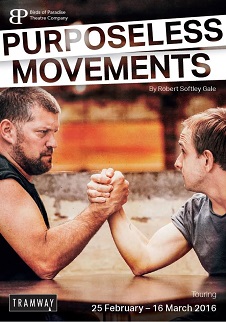 At the start of this year Laurence toured Scotland in Birds of Paradise's critically-acclaimed production Purposeless Movements. The production was a great success and may return next year.
Purposeless Movements is a visually stunning new dance theatre piece that riffs on the stories of five guys with cerebral palsy, how it affects their lives, their gender, their masculinity and their movement.
Funny and challenging in equal measure, the show will fuse music, video, movement and text as the guys tell humorous and poignant stories of their laughter, their inappropriateness and their tears – stories that ask what it is to move and be moved. How do these stories come together to shape their identities? What do they share with one another and what sets them apart? And how much of this is down to Cerebral Palsy?
When they were born the doctors called it Purposeless Movements – for them it's just how they get around.
Directed by Robert Softley-Gale
"an intensity of purpose…wickedly funny and memorably impressive…" ★★★★★ " The Herald
"If everyone had the opportunity to see Purposeless Movements, attitudes towards disability would change overnight." ★★★★ The Scotsman
"…a frank and at times filthy show" ★★★★ The Stage