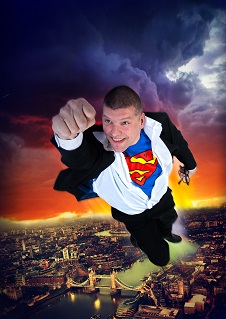 Laurence is excited to announce that his new show, Independence will be in the Edinburgh Fringe at Assembly George Square from 3 to 28 August at 7pm. Tickets are on-sale now from the Assembly Box Office.
Everybody seems to want their independence right now – but be very careful what you wish for!  Laurence spins his tales of adolescence, love and Harry Potter, discovering he doesn't have to be Superman and do everything.  But life sometimes throws up the unexpected when you depend on someone else to fasten your jeans for you.
With TV appearances on BBC, ITV, Channel 4 and Channel 5, Laurence starred in the BBC One documentary We Won't Drop the Baby.  He was awarded Shortlist magazine's Funniest New Comedian, regularly performs with the comedy collective Abnormally Funny People and was a finalist in the Amused Moose Edinburgh Laughter Awards.
"Wickedly funny" ★★★★★ Herald
"Dangerously funny… makes Chris Morris look lightweight"  ★★★★ The Scotsman
"Damn funny comedy from the heart" ★★★★ Chortle
"A total and utter bloody hoot – right up my alley!" ★★★★★ Nicola Sturgeon
Directed by Matt Holt & Robert Softley Gale
Produced in partnership with DaDaFest and the Unity Theatre
Funded by Arts Council England