Inside Comedy 3 April 2005
Words: Konrad Obiora
Picture: © Laurence Clark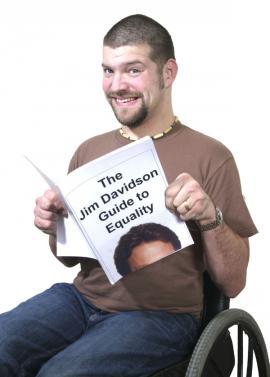 Stand-up comedian Laurence Clark is a rising talent on the comedy circuit, he also happens to be disabled, which, if you're Jim Davidson is the next worst thing to being an asylum seeker or both. Laurence conceived the idea for and began touring his new show, The Jim Davidson Guide To Equality, after reading that Jim Davidson requested the removal of two wheelchair users from the front row of an audience before he would begin his show.  Laurence took some time out during his tour to answer a few questions about his show and his experiences as a disabled comedian.
Inside Comedy: Laurence thanks for sparing some time.  Before we talk about The Jim Davidson Guide To Equality tour, I just wanted to know what your immediate reaction was when you read of Jim Davidson's request?

Laurence Clark: Although disabled people face a lot of discrimination, it's rare to find a case so blatant as this.  Usually the discrimination is subtler; for example, we get told we can't go places because of health and safety rules.  But Jim Davidson made it quite clear that he just doesn't like us.  It occurred to me that this would be quite a black and white case for the public to get their heads around.
The tour is both politically and socially satirical, using video footage of Jim Davidson's routines interspersed with footage of speeches by Tony Blair.  What inspired you to use multi-media and is this something you will do more often?

The video footage is actually a bit of a cheat, as I can use it to give myself breaks.  I don't think I would be able physically capable of speaking for an hour without them.  However, they also make for a more varied spectacle and make my shows more watchable.
You've been on tour with The Jim Davidson Guide To Equality for over a year since showcasing it at last year's Edinburgh Fringe.  How do you think audiences have responded to your material?
I think critics are surprised when they come to see the show that it puts over an intelligent, well thought out case and is funny to boot.  I think the audience come expecting to see something worthy or sentimental, not someone like myself who is sarcastic swears and talks about their sex life.
What message would you like audiences to take away with them after seeing your show?
I think the message audiences go away with is to accept diversity, plain and simple.
Your last tour – The All Star Charity Show – took a swipe at the charity industry.  Did you get any negative reactions to that tour?

The show satirised charity appeal shows by staging a fake charity appeal show, Stars in Need for celebrities involved with them.  I was really sending up Children in Need, as I hate the way in which it depicts disabled children in order to raise money.  As a disabled child I was on the receiving end of the type of services funded by the organisation, so I felt I had a right to comment.  Just before the final show, Children in Need responded to an interview I'd done by saying they were "saddened" by my comments.  Ironic really, as I'm saddened every November by this night of cheap television hosted by washed up celebrities. Not exactly entertainment is it?
Clearly comedy has been an effective way for you to talk to a wider audience about being disabled and highlighting the prejudices and hypocrisies that still exist in society towards disabled people.  What made you decide you wanted to get into comedy?
I was sick and tired of going to comedy clubs and listening to comedians who used disabled people as the butt of their jokes, so I decided to redress the balance and have a go myself.
How long have you been doing stand-up and what was your first gig?
I've been doing stand-up comedy for around three years now.  My first gig was at a disability cabaret night at the Liverpool Institute of Performing Arts in March 2002.  I was terrified before going on, as I'd no idea if I could make people laugh or not. But once I'd got that first laugh I relaxed and started to enjoy it.
You have written about the difficulties you have encountered at comedy clubs to do shows before a mixed audience.  Do you think there is segregation in comedy clubs?

Yes definitely.  I now tend to play small theatres and art centres as they have better access.  A lot of the comedy clubs are in pub cellars or upstairs.
Following on from that, you have been critical both in your stand-up and your column on the BBC online magazine Ouch about the way disabled people are depicted in the media, particularly in sitcoms.  Do you see any improvement here?

At the moment it seems that at the BBC, programme makers are desperate to put disabled people on TV in order to meet their quota.  But since relatively few of us are involved in the process of production, we're getting the same old stereotypes repeated.  I did love the way disability was used in The Office [series two], as you were quite clearly being asked to laugh at the appalling treatment of Julia Fernandez's character Brenda, rather than the fact that Brenda was disabled.
Do you have any plans to write a sitcom yourself?
I'd love to write sitcom, but getting the opportunity isn't always that easy.  I worked on a brief for a sitcom last year with an independent producer, which I gather, is still bouncing around various BBC department.  But from what I can see of the business, getting commissioned is as much luck as skill.

Which comedians have influenced your comedy?
I am a huge fan of 1970s sitcoms, and regularly piss my wife of by watching endless repeats on UK Gold.  In particular, I admire Steptoe and Son as a brilliant example of comedy derived from characters.  I also love comedy that focuses on the minutiae of life, the small things which drive us mad.  Dave Gorman is brilliant at this, and I've just discovered Larry David's show Curb Your Enthusiasm, which is just about the only thing I regularly watch at the moment that makes me laugh out loud.  There was a scary moment in the last episode I watched where he moaned to his wife about not buying Colgate toothpaste – I've had that exact same argument in my own marriage.  I've warned my wife that I will turn into Larry David in another twenty years time.
Before we wrap this interview up, I was wondering what your plans were for this year's Edinburgh Festival?  Are you working on any new material for the Fringe?
Yes, I'll be taking a new show to the Pleasance in August.
What will the show be about? What can Fringe audiences expect?
As it stands I'm not sure at the moment I'll be doing a solo show up there because it costs so much money to put one on.  I will definitely be in a stand-up/sketch show called Funny People, along with disabled comedians Mat Fraser, Steve Day, Chris McAusland, Tanni Lee Davis and Julie Fernandez.
Thanks again Laurence for your time.
No problem.  Cheers.