Edinburgh Spotlight 15 July 2011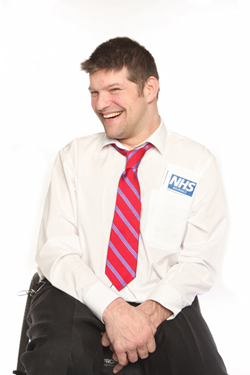 After taking a couple of years off from the Fringe to work on his writing and creative direction, acclaimed comedian, presenter and actor Laurence Clark returns to Edinburgh with a new show, Health Hazard. He took some time out from preparations to tell us a little bit more:
Tell us a little bit about your show – where's it happening, what's it about, why should people come to see it?
Health Hazard is my one-man mission to sell the benefits of free healthcare to America, along the way exploring the dangers of introducing more competition into the NHS. I began work on it two years ago, never thinking David Cameron would make my chosen subject so topical by the time the show was ready! We filmed the hidden camera stunts for the show around America which was an interesting experience – filming on the streets I found the general public there less inclined to engage with me than here.
People should come and see the show as, aside from it being really funny, it should make them view our National Health Service in a different light.
What are you expecting from the Edinburgh Fringe?
Lots of sleepless nights, especially as I've got a new baby son who was only born a couple of weeks ago. I don't envisage sleeping much the week my family are up!
What's been your strangest experience preparing for the show so far?
Whilst filming the stunts in America, I also did a few gigs to try out the material. My first one at a conference in Philadelphia was in a theatre that seated 900 people and, at best, was at around 3% of its capacity. Moreover as the auditorium wasn't particularly accessible, most of the audience consisted of wheelchair users who were forced to sit around the rim of the auditorium, miles away from the stage.
Furthermore, unbeknownst to me, at the last minute the event had been turned into a tribute for a recently deceased local gospel singer. I came on stage at the end of a four hour programme of gospel music and immediately realised that I was absolutely powerless to save this gig! The only thing left to do was put my head down, power through a bog-standard set faster than I've ever done before, get off stage as quickly as possible and then drown my sorrows with copious amounts of alcohol!
If money was no object, what publicity stunt would you do to promote your show?
Give out fake medical bills.
Who else are you planning or hoping to see?
A lot of shows that I want to see are on at the same time as me but I've already bought tickets for Stewart Lee on the one and only night our shows don't clash; my fellow member of Abnormally Funny People, Steve Day and my mate Alfie Joey's musical comedy extravaganza as he's only doing one night.
What do you have planned for after the Fringe?
For the past six months I've had a film crew following me around, making a documentary for BBC 1. The film focuses on issues facing my wife and I as disabled parents and will also feature my comedy. It's due to be broadcast either late this year or early next year.
Sum up your show in three words for us
Intelligent, mischievous, hilarious
Laurence Clark: Health Hazard runs from 3-28 Aug (not 16) at the Udderbelly's Pasture at 18:40. More details are on the Fringe website.