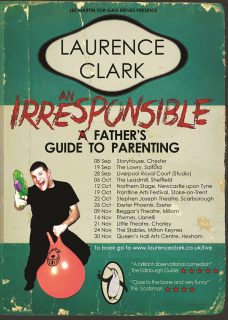 Laurence is  touring this hit show in autumn 2019…
Growing up Laurence never saw dads with cerebral palsy; which made him think he'd never be a parent himself. Besides, the only thing he'd ever managed to look after was a cactus, and even that died from lack of water.
But then his future wife says he'd better be prepared for the fact she wants babies… which is a pretty strong opening line for a first date! What follows is the hilarious and heart-warming story of two people with cerebral palsy traversing the ups and downs of parenthood.
If Laurence is an irresponsible father then it's nothing to do with being disabled! It's probably more to do with balancing his wife's crutches on his son's baby walker to make him look like a Dalek!
Here's a trailer for the show:
Here's Laurence promoting the show on The Wright Stuff:
Here's a feature on the show by BBC Scotland:
Funded by Arts Council England and Unity Theatre Liverpool.